If you have ever heard of computer games, you can imagine virtual worlds with complete freedom of action. Blockchain technology has made it possible to upgrade those worlds to a metaverse. A metaverse is an extended version of the internet that gives users even more ways to interact. While the concept of the Metaverse is just emerging, there are already projects moving in this direction. One of the leaders in this field is Decentraland.
A visit to the Metaverse will help you better understand the future that awaits us. The journey will not take long. In this guide, we will show you five places in Decentraland worth visiting for a beginner. You will learn about the main features of this virtual world and get familiar with the concept of the Metaverse.
Decentraland — a virtual world on the blockchain

At first glance, Decentraland looks like an online game. However, entertainment is only a small part of the possibilities of this metaverse. Users communicate, attend lectures, open shops, explore the world and create new objects in it.

The main feature is the concept of ownership of land in the form of NFT (nonfungible tokens). Anyone can buy land for cryptocurrency and build whatever they want on it: a store, a cinema, an office, a playground, an art gallery. The Metaverse runs on the blockchain, so developers cannot interfere in any way with the actions of users.


How to get to Decentraland

Every trip begins with preparation. To visit Decentraland, you will need:

Computer,
internet,
browser,
cryptocurrency wallet.

Usually, the only thing newcomers to the meta-universes lack is a cryptocurrency wallet. It's not hard to get one. The easiest one to use is MetaMask. It works as a free browser extension. You can learn how to install and configure it in a separate guide.

After installing a cryptocurrency wallet, you do not need to add funds. Just click play on the official website and get on your way. The first place you will find yourself is Genesis Plaza. This is the center of the metaverse where all users start. Here you will find posters of events and popular establishments. They will help you quickly find and reach the desired location.



Useful Travel Tips:

Press C to view all control settings.
If you like night walking, you can change the time of day in the settings.
The full map of the Metaverse is opened by pressing the "M" key. Using the coordinates, you can find the point you want and go there immediately.
A decentralized itinerary

In front of the billboards in Genesis Plaza is a swimming pool. When you dive in, you will find yourself in a bar. It's filled with various references to the blockchain industry: Doge walks around the hall, portraits of crypto banks hang on the walls, and the tables are adorned with Ethereum logos. The place is perfect for finding your way around the new world and familiarizing yourself with its mechanisms.



Gallery. The inhabitants of the metaverse love to build museums and show their NFTs to guests. You can find private exhibitions of artists as well as huge complexes, such as the Voltere District. There, galleries have been built by popular NFT marketplaces such as SuperRare, KnownOrigin, and MakersPlace. Each of these galleries contains digital paintings by real artists. You can click on each painting to go to the marketplace itself to learn more about it or buy it. And to make sure you do not get bored while walking, music plays in each pavilion.

How to get. Coordinates:55,97.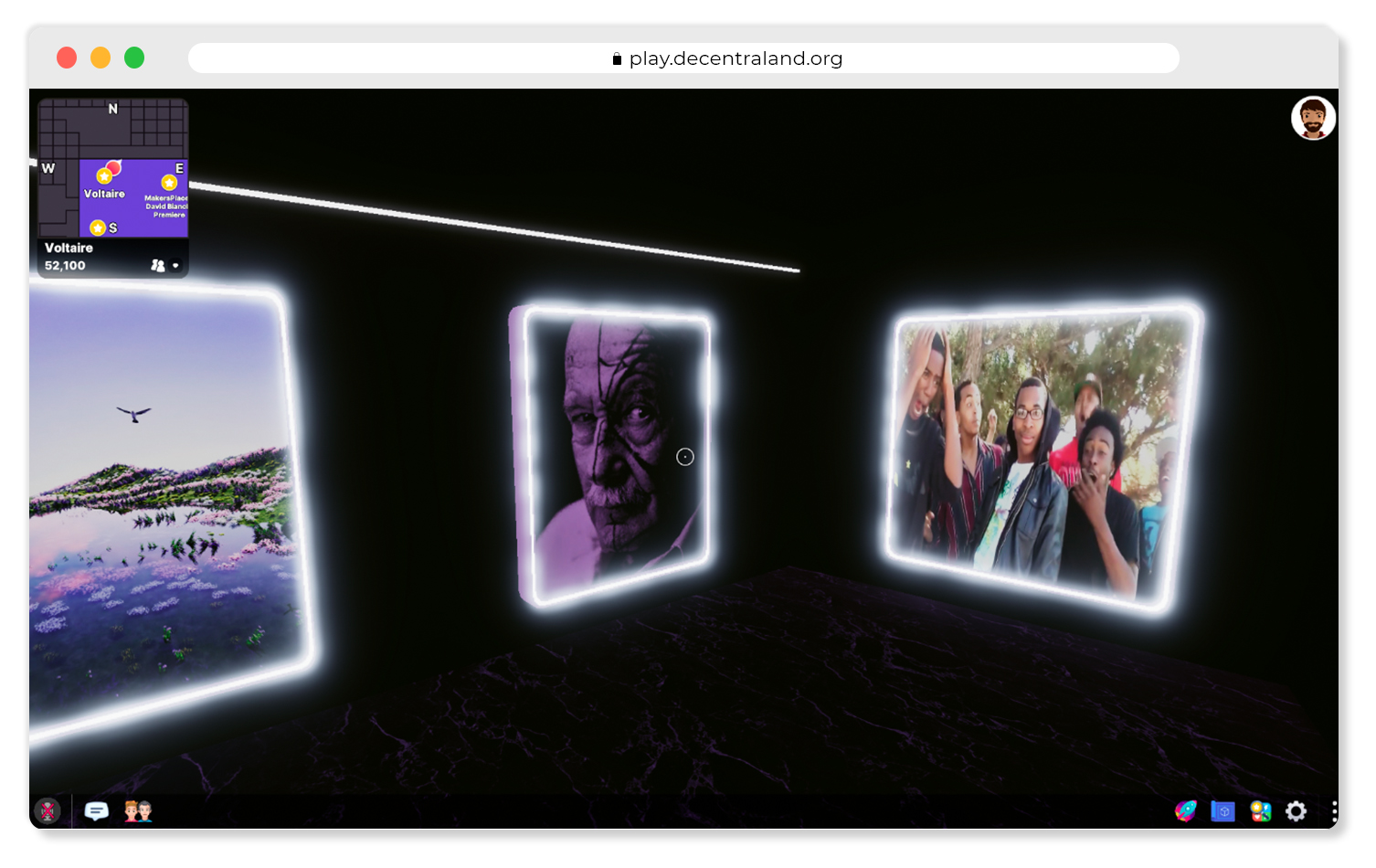 Cinema. The Metaverse is a convenient place to meet up with friends. You can not only communicate using voice communication but also feel each other's presence in space. The cinema will be a suitable place to relax together. One of them is the Star Cinema, where you can choose a movie from the list of films offered. For example, familiarise yourself with the classics of American cinema with Buster Keaton in the title role.

How to get. Coordinates: 11,101.




Sandbox. One of the most popular destinations in Decentraland is Wondermine. This is a Minecraft-style sandbox game where you must craft items in the form of NFT. Meteorites fall onto the playing field about once a minute, from which you can extract valuable resources using a pickaxe. The pickaxe's charges are replenished every day. The more days you are in the game, the more valuable items you can produce. Usually, these are some sort of clothing item for the avatar. In the Decentraland marketplace, these items can even be sold for MANA tokens.

How to get. Coordinates: -29,55.



Amusement Park. In Decentraland, you do not have to do anything or complete any quests. There are many beautiful places where you can walk and explore the metaverse. If you like this kind of recreation, then you should check out the Soho Plaza area. This is a huge and detailed amusement park. Here you can, for example, skateboard or view the Metaverse from a Ferris wheel from above.

How to get. Coordinates: 64,55.



Races. Attractions in Decentraland are also created by third-party developers. One of the first such examples is a racing game called Battle Racers from the studio Altitude Games. Choose a car and let it hit the track to race against other players or the computer. Cars can be upgraded and equipped with NFT items. And championships are held every week with valuable NFTs at stake.

How to get. Coordinates: 67-21.


Conclusion

Decentraland is a metaverse with a lot of possibilities. To go on a journey, all you need to do is install a cryptocurrency wallet and launch the game in your browser. We have listed 5 places you should visit for the first time:

Art galleries will appeal to creatives and art lovers.
Cinema is suitable for those who want to spend time with friends.
At Wondermine, you will have the opportunity to earn NFTs.
The amusement park will appeal to those who enjoy exploring virtual worlds with freedom of action.
Racing Battle Racers is something for fans of computer games.
Появление бренда в метавселенной может помочь лучше взаимодействовать со своими пользователями. Поэтому компании, такие как Gucci или Netflix, обычно обращаются к дизайнерам виртуальной реальности. В России подобные услуги предлагает студия Maff Metaverse.
Author: Boris Tahohov Editor: Dmitrii Egorov

Illustrator: Ekaterina Yarmarkina